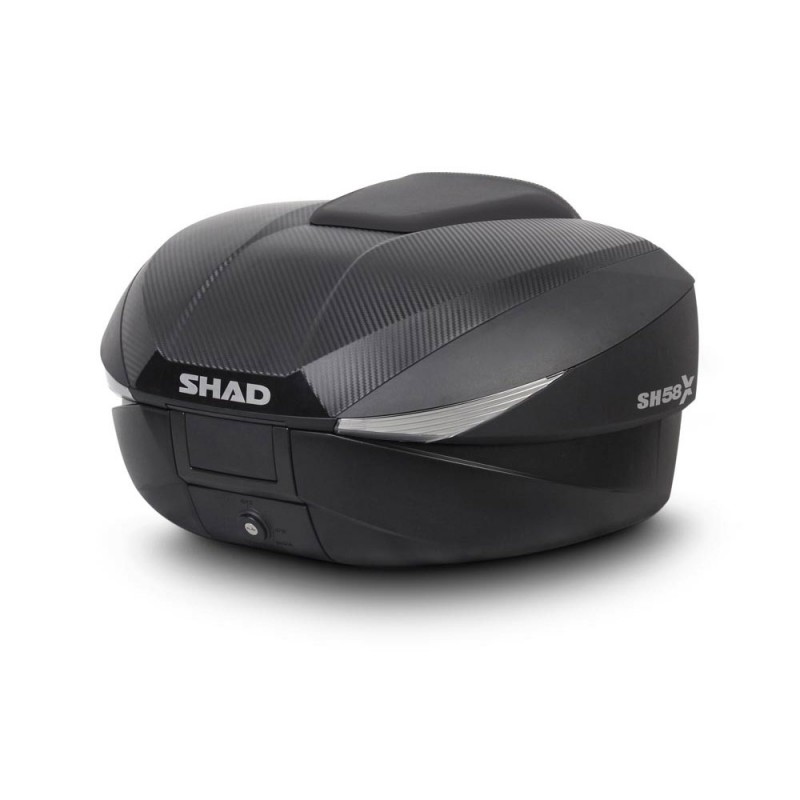  
SHAD SH58X (Expandable)
The SH58X is the solution for those who want a top case for more than one purpose, but don't want the expense or hassle of buying additional luggage.
Security policy: Please be assured that any details supplied to the Motorcycle Travel Shop will not be passed on to any third parties for marketing purposes.

Delivery policy: All orders will be sent via Royal Mail (standard delivery) unless requested otherwise. Please allow on average 3-5 working days for your delivery to arrive.

Return policy: If you wish to return an item, no matter what the reason we ask that you contact us as soon as is practicable, so that we may discuss the return with you to ensure your customer satisfaction is met.
So what does it do?
Open the lid and there are a couple of small levers inside that you use to unlock the extending part of the case and reset it into one of three positions. This simple yet innovative solution has been patented by Shad and allows the SH58X top case to be expanded from 46 litres, to 52 litres and up to a maximum of 58 litres of capacity. In fact if you go for the SH59X option with alternative lid, there is an extra litre to be had too!
2 other products in the same category:
Givi Trekker Outback 58 Litre Top Box, requires monokey base plate. Free fitting available in store.
V47 TECH case, 47 ltr, black with anodized aluminium finishing and smoked reflectors